Pacific Coast and Oceanside Home Mold Removal and Remediation
9/22/2017 (Permalink)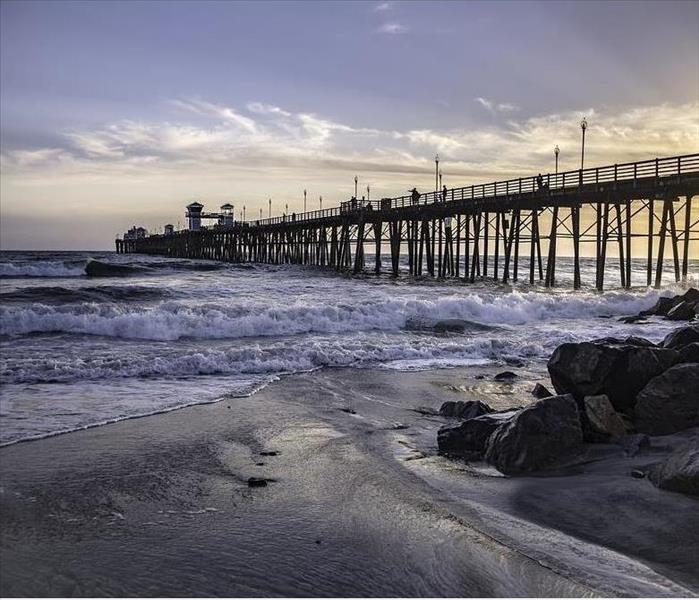 Oceanside Mold Removal & Remediation
Living near the ocean can be a wonderful experience, with cool breezes, spectacular views and a laid-back way of life that is hard to beat.
Whether you are new or a native to living in Oceanside or the surrounding areas, you know how wonderful it is to have a place you can call home that is near the Pacific.
Unfortunately, coastal living also comes with its fair share of dangers, and mold is chief among them. Finding mold growing in your Oceanside home can be devastating, and knowing what to do in that situation can be quite difficult.
Contact Your local professionals at SERVPRO of Fallbrook / South Oceanside. Our team of mold experts are dedicated to helping rid homes throughout Oceanside and North County San Diego of mold.
We have experienced mold removal and remediation specialists ready to help, give us a call at (760) 451-0600.
Highly Qualified Mold Removal & Remediation Process
Mold removal from your Oceanside home is a very specialized process, and not one homeowners should try to tackle on their own. At first blush, the process of mold removal and remediation can seem like a simple one, but it is anything but. Mold cleanup is a time-consuming process, an exacting one, and trying to clean up mold on your own could end up making the problem even worse.
The Risk Of Mold In Oceanside
The very conditions that make living in Oceanside or along the Pacific Coast Highway so wonderful are the same ones that make mold a problem. Your beautiful views of the Pacific ocean are often accompanied by coastal moisture, warm temperatures and with humidity your Oceanside home provides a ready breeding ground for mold, including many varieties that can cause serious illness in humans and animals. You would not want to find black mold growing in your Oceanside home.
If you suspect your home needs mold clean up, you should not risk waiting. While some varieties of mold are merely unsightly, others are downright dangerous. You cannot tell by the naked eye which type of mold your home is harboring, so it is important to call an experienced Oceanside mold specialist with SERVPRO at (760) 451-0600 at the first sign of trouble.
Signs Of Mold Growth
So how do you know if you have a mold problem in your Oceanside home? While every property is different, there are a number of signs to watch out for. You should call a professional mold remediation specialist right away if you notice any of the following:
Musty Smell
Mold gives of a distinctive odor, but you may not recognize it if you have never dealt with oceanside mold removal before. If you smell a musty odor in your home, you should suspect a mold problem.
Visible Mold
Visible mold growth is the most obvious sign, but it is not as easy to spot as you might think. If you spot dark streaks or other signs of mold growth, you should contact a mold remediation specialist right away.
Leaking Water
If your coastal home has a water problem, it probably has a mold problem as well. Mold thrives in moist conditions, and if you see standing water, unusual drainage or water leaks, some sort of mold clean up is probably in your future.
Condensation and Moisture
Watch for spots where water accumulates in your home, especially in the basement or crawlspace. If you see condensation in these areas, you could have a growing mold problem, and an immediate need for emergency mold removal.
History of Flooding
If your coastal home has ever flooded, the property is at increased risk for a mold problem. This elevated risk of mold exists even if the flooding was relatively minor, and the best defense is eternal vigilance. If you spot any signs of mold in or around your home, your next call should be to an experienced Oceanside mold removal specialist.
If you spot any of the above telltale signs and symptoms, you may very well have mold in your Oceanside home.
Experienced Oceanside Mold Remediation
Contact SERVPRO of Fallbrook / South Oceanside and speak to our mold remediation expert immediately. Having mold in your home and letting it linger can be a very risky bet for both you and your family. Young children are especially vulnerable due to their age their immune systems and bodies are not as strong as adults. Our team of mold remediation experts in Oceanside are parents and know full well the dangers of mold. Our team is trained and qualified in how to properly remove the mold from wherever it is growing and clean the air of mold spores returning your home to normal.
Contact Us Today
If you need to get rid of mold, you need expert advice and guidance. Contact us today, (760) 451-0600 and we would be happy to help. Mold removal is not a do-it-yourself project you should rush into and you cannot rely on your own expertise to get rid of mold and protect your family and home.
Our Oceanside mold remediation experts will be there every step of the way to explain what is being done to restore your home.